Back In Time
We've all had moments in life that we wished would never end. How can I freeze time, and make what is happening
now
last
forever
?
So what if time travel (with or without Michael J. Fox) became possible? What moment would you choose to go back and relive?
I really didn't have to think. I would want to relive the birth of Mr. Cheeks. Ok.
Wait just a second
. Maybe not the
birth
. But the moment I first met my son. Miracle is a strong word, but bringing a child into this world is a true Miracle.
As I step out of my time machine, what would the scene of that magical moment look like? Here are a few snapshots:
A sense of peace and calm filled that sterile room after much angst and struggle. Joy rushed through both Hubby and I. And....I never thought something that looked so much like a wet hamster could bring tears to my eyes.
Disbelief. Is this possible? Is Mr. Cheeks really looking back at me?
Ouch. The other gift from God (i.e. epidderal) was all of a sudden missing from my life. Where did you go friend?
I want to show this baby to everyone! If they (or my half numb body) would have let me run through all the halls of that Atlanta Hospital and announce this birth, I surely would have.
Unconditional overwhelming LOVE. It is truly undescribable the love that you feel when you have a child. And the coolest thing? It only grows stronger with time!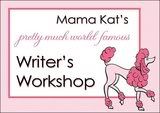 Labels: Family, Life Lessons, Writer's Workshop