Thinking Back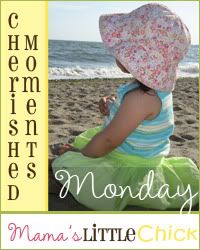 Question. Has anyone seen October? The date on my computer this morning says something about November, but there were 31 days of one of my favorite months that have come and gone in the blink of an eye.
October, although a blur, was filled with an incredible amount of cherished moments. As we enter NOVEMBER, a month dedicated to giving thanks, I am excited to start my day reflecting on all of the special things that have kept us so busy lately.
Mr. Cheeks got to choose his very first pumpkin from the pumpkin patch. Choice is an interesting thing when you are a One Year Old. In Mr. Cheeks' world, everything was created just for him, but somehow we did manage to find just the right pumpkin without a meltdown! One point for Mom!
I also found my kitchen. Finally I grew tired of pulling my dinner out of a box or out of the freezer. I came home one night, and told Hubby that dinner that night was Tomato Bisque. When he saw me assembling ingredients that included a real tomato, his eyes lit up like a kid on Christmas. Time to cook more frequently! It was such a momentous occasion, that I could resist modeling my pristine William Sonoma Apron. Spotless apron does not a good cook make!
October ended with a real-life grand finale - Halloween. I'm sure that Christmas is going to be magical as well, but watching my little guy in the school parade was a moment I'll cherish forever.
I took a day off from the schoolhouse to participate his school's Trunk Or Treat. I thought when he made it to our car and saw Hubby and I that the parade would be over. It turns out that walking around to people freely giving out candy trumps Mommy and Daddy!
We even found a second for some adult time, and hosted the first party in our new house. Being an overachiever (sometimes to a fault), we handmade all of our outdoor decor! Bribing Hubby with the prospect of a new tool, we bonded in our basement over a jigsaw and sheets of plywood.
What was one of the few things we still agreed on at the end of the construction project?
Nothing is every as easy as it looks or sounds in Better Homes and Gardens.
Labels: Cherished Moment Monday, Family