One Tiny Word
L
aying in bed with Hubby last night, holding my book, and enjoying the end of a very busy day, I asked him a question.
If you could choose one word that would be my focus for the entire year, what would it be?
I quickly followed with a disclaimer: I might not choose your word, and it cannot be sex. We both laughed, and without much hesitation he replied, complete.
The question of one tiny word that would guide my thoughts and my actions (give me direction) in 2011 has been on my mind for several days. I kept coming back to the word action. Something wasn't right about action, though. I felt like it was too demanding, too one-sided, and would continue to perpetuate the perfectionist tendencies that I already struggle with. I can hear my inner thoughts now: "And Action. Get to work. Do, do, do. Stop being lazy. Work ahead. Work smarter not harder." Ughhh. Action. Wasn't. It.
Now this word was beginning to feel warm and fuzzy inside. It felt as though it could take on numerous meanings throughout the year. How does it feel to be complete? Did I complete the goals I set out for myself?
I didn't want to box myself in to a word that I could fully predict. I want my word and my actions to have unrealized potential. The blessings and hardships of 2011 have yet to unfold, and I need a word with some space to grow and change.
So, there it is. My one word resolution.
Have you thought about choosing one little word to focus your thoughts and actions for this year?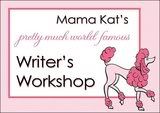 Please don't forget that if your
word or resolutions
have anything to do with organization, budgeting, list-making, or more thorough housekeeping then my
first giveaway
is for you. Click here to read about
Clean Mama
and her fantastic Etsy Shop!
Labels: Writer's Workshop