An Interesting "Cherished" Moment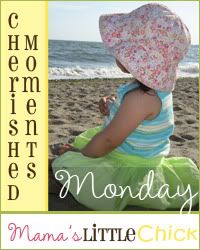 So, this morning was NOT what most would consider a cherished moment. This morning, Mr. Cheeks, age 1, had his first day at our new Daycare. Whew, breathe, wipe that tear....
Although it was incredibly difficult to drop him off this morning, I was reminded of two things as I drove away.
First,
we had an amazing summer playing together.
We swam, we traveled, we made wonderful memories with family, he
learned to walk
, and we bonded. Here are some highlights....
The second thing I am reminded of is how lucky I am to have wonderful people to care for my son, and how fortunate I am to have a job.
During our current economic times, I feel very blessed to have a job that I enjoy and that allows me to make a difference in the lives of children. I know that many families are struggling with unemployment right now, and a year ago, our family went through that very difficult time ourselves. Now that both of us are back at work, I always try to remember to be thankful for the opportunities we've been blessed with, even if it means some time away from my dear Mr. Cheeks.
The wonderful women who greeted Mr. Cheeks this morning promise to be wonderful caretakers for him, and already were giving him so much love. They are just as curious about him as he is about them, and want to teach him, play with him, comfort him, and love him in my absence. I had to tear myself away, and peered through the window not once, but twice.
I am thankful to have my blog right now as a place to reflect on this morning, and realize that even though moments like these are tough, these moments hold blessings in disguise.
Labels: Cherished Moment Monday, Working Moms