First Steps - World Here I Come!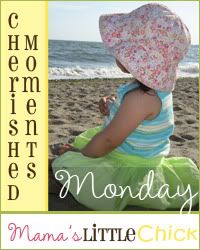 I just love starting Monday morning with thoughts about
recent moments
that I cherished! What a great dose of positivity to get the week started off right. Although this week brought many fun moments, it was easy to pick what to feature today. Take a look, and I think you'll agree:
Last week was somewhat of a
roller coaster
for our little family of three, as Mr. Cheeks returned to Daycare, and hubby had a
little trauma
of his own. Saturday evening, just as our daily thunderstorm was rolling in, I happened to peer out the window, saw this moment, and was overcome with gratitude for the relationship between my husband and my son.
Being a
Teacher
and a Girl, I just play with Mr. Cheeks differently. There's always a curriculum to my play (not intentionally, but Harvard only has a
few slots
in 2026, I hear!). When Hubby and Mr. Cheeks play, the laughter roars throughout the house. Wrestling matches, balls flying everywhere, bubbles, and water fill the time for the two of them. I'm sure there is some serious G.I. Joe in our future...Bye Bye, Barbie and My Little Pony.
Although it didn't come easily, Hubby and I have become a strong team committed to raising our little boy. I sincerely cherish the moments that I am given to "take a break", but I find myself sneaking in to get a peak at their special time together.
Labels: Cherished Moment Monday