The Sunday Scoop
Is it bad that it is 6:47 am and I'm thinking about
Ice Cream
? Could be the sweltering heat we are experiencing here in the South. It is already almost 80 degrees this morning!!
All kidding aside, I thought I would start a new weekly post called the
Sunday Scoop
to share all of the great blogs and posts I found online throughout the week. There is
SO
much creativity, intelligence, humor, and sharing happening out there, and great ideas should definitely be passed on.
You may notice I have beautiful new social media icons on my homepage (RSS, Twitter, Facebook, and Email). I certainly am not capable of such design as a novice blogger, but when I reached out to
Just Another Mom of 2
, not only did she answer some of my questions, but she
helped me design
those helpful icons! She has a very heartfelt blog about the importance of each and every one of us in the world of motherhood. One of the most helpful friends I've met in my new journey so far!

One of my most successful posts this week was inspired by Mama Kat's Writer's Workshop. If you are looking for blogging tips, writing inspiration, or just a good dose of laughter, this blog is great paired with your morning coffee. Participation in the Writer's Workshop was a fun challenge, and I enjoyed reading the responses of others, too! Writer's Workshop happens every Thursday.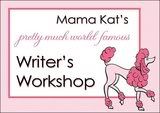 A lot of my readers are into crafting and sewing, and I was really happy to come upon
Just Sew Sassy
. This blogger has great ideas, that are perfect for someone new to sewing. Her Tuesday Tutorials are particularly great. Check out two of the most recent: how to make a cute
little girl's dress
and making a gift-able
potholder and oven mitt set
.
I would be remiss in ending this week's Sunday Scoop without reminding you about
SITS
. This wonderful community is the host of the
31 Days to Building a Better Blog (31DBBB) Challenge
, which has been an incredible resource. Through SITS, and this challenge, I have read so many amazing blogs, and received numerous tips and words of advice. Even if you are not participating in the challenge, you can still click on the topics covered, and benefit from the expertise of great bloggers.
SITS also has a daily featured blogger, and I was particularly impressed with two of the blogs this week:
Mommypants
and
Green Monkey Tales
.
Thanks to all who participated in
my discussion
this week as part of the 31DBBB Challenge. I took away so many great ideas, and have been busy this weekend writing posts for the upcoming week. More to come on how I've used what I learned to become a more efficient blogger and fit blogging into my life in a future post!
Labels: Sunday Scoop